Consultation Flow :
I'm Looking for
Get Started Now
Our specialist will get back to you within 1 working day!
Flexible SMD LED Display Module
Flexible SMD LED Display Module
To meet some special scenes in the particular design, or all ideas to be realized then, we need to put flexibility in as a part of features to be accomplished, it means we have several choices to finish the project, however, the character of raw materials like maximum bending angle will be critical to make it perfect, such as the globe or cylinder display, just reach out everywhere we can reach out at the sites
Strong magnetic recessed into the whole module for easy installation Good bending ability to be shaped that to meet the creative conditions Stable configuration of each parts assembling in a unit instead of being in damage
Customize Your LED Display Screen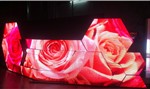 We can custom-make the LED display screen to request, only if you tell us your need, we will provide you a complete solution with quote. Please contact us.
Start Now
LL-FSKU
Pixel Pitch
Module Size
Module Resolution
Module Pixles
Scan
Pixel Density
Viewing Distance
Brightness
Price
HKM-F-P2.5
2.5mm
320*160mm
128*64
8192dots
1/32
160000dots/㎡
>2.5m
≥800cd/㎡

$106.46-$189.35

HKM-F-P3
3mm
192*192mm
64*64
4096dots
1/32
111111dots/㎡
>3m
≥800cd/㎡

$68.31-$142.49

HKM-F-P4
4mm
256*128mm
64*32
2048dots
1/16
62500dots/㎡
>4m
≥800cd/㎡

$32-$60.59

HKM-F-P5
5mm
320*160mm
64*32
2048dots
1/16
40000dots/㎡
>5m
≥800cd/㎡

$34.15-$64.85

HKM-F-P1.87
1.875
240*120mm
128*64
8192dots
1/32
1284444dots/㎡
>2m
≥800cd/㎡

$0

HKM-F-P2
2.0mm
256*128mm
128*64
8192dots
1/32
250000dots/㎡
>2m
≥800cd/㎡

$0

HKM-F-P3.2
3.2mm
256*128mm
80*40
3200dots
1/20
97656dots/㎡
>3m
≥800cd/㎡

$0

HKM-F-P4L
4.0mm
320*160mm
80*40
3200dots
1/16
62500dots/㎡
>4m
≥800cd/㎡

$0

HKM-F-P8
8.0mm
256*128mm
32*16
512dots
1/8
15625dots/㎡
>4m
≥4500cd/㎡

$0
LL-FSKU
Pixel Pitch
Module Size
Module Resolution
Module Pixles
Scan
Pixel Density
Viewing Distance
Brightness
Price
HKM-SF-P2
2mm
240*120mm
120*60
7200dots
1/30
250000dots/㎡
>2m
≥800cd/㎡

$188.03-$289.28

HKM-SF-P2.5
2.5mm
240*120mm
96*48
4608dots
1/24
160000dots/㎡
>2.5m
≥800cd/㎡

$88.89-$136.75

HKM-SF-P3
3mm
240*120mm
80*40
3200dots
1/20
111111dots/㎡
>3m
≥800cd/㎡

$78.63-$120.97

HKM-SF-P4
4mm
240*120mm
60*30
1800dots
1/15
62500dots/㎡
>4m
≥800cd/㎡

$58.12-$89.41

HKM-SF-P1.87
1.875mm
240*120mm
128*64
8192dots
1/32
1284444dots/㎡
>2m
≥800cd/㎡

$0

HKM-SF-P2.5L
2.5mm
320*160mm
128*64
8192dots
1/32
160000dots/㎡
>2.5m
≥800cd/㎡

$0

HKM-SF-P3.2
3.2mm
256*128mm
80*40
3200dots
1/20
97656dots/㎡
>3m
≥800cd/㎡

$0

HKM-SF-P4L
4mm
320*160mm
80*40
3200dots
1/16
62500dots/㎡
>4m
≥800cd/㎡

$0

HKM-SF-P5L
5mm
320*160mm
64*32
2048dots
1/16
40000dots/㎡
>5m
≥800cd/㎡

$0

HKM-SF-P8
8mm
256*128mm
32*16
512dots
1/8
15625dots/㎡
>8m
≥4500cd/㎡

$0

LL-FSKU
Pixel Pitch
Module Size
Module Resolution
Module Pixles
Scan
Pixel Density
Viewing Distance
Brightness
Price
HKM-MWF-P2
2mm
256*128mm
128*64
8192dots
1/32
250000dots/㎡
>2m
≥3500cd/㎡

$0

HKM-MWF-P3.2
3.2mm
256*128mm
80*40
3200dots
1/20
97656dots/㎡
>3m
≥3500cd/㎡

$0

HKM-MWF-P2.5L
2.5mm
320*160mm
128*64
8192dots
1/32
160000dots/㎡
>2.5m
≥3500cd/㎡

$0

HKM-MWF-P4
4mm
256*128mm
64*32
2048dots
1/16
62500dots/㎡
>4m
≥4500cd/㎡

$0

HKM-MWF-P4L
4mm
320*160mm
80*40
3200dots
1/10
62500dots/㎡
>4m
≥4500cd/㎡

$0

HKM-MWF-P5L
5mm
320*160mm
64*32
2048dots
1/16
40000dots/㎡
>5m
≥4500cd/㎡

$0

HKM-MWF-P8
8mm
256*128mm
32*16
512dots
1/8
15625dots/㎡
>8m
≥4500cd/㎡

$0
Relative Project Solutions