Consultation Flow :
I'm Looking for
Get Started Now
Our specialist will get back to you within 1 working day!
LED Strip Light CRI90 SMD3528 16.4Ft(5M) 1200LEDs Warm White 3000K-3500K 240LEDs/M DC12V 96W 19.2W/M 15mm White PCB Flexible Ribbon Strip with Adhesive Tape Non-Waterproof H3528WW1200N
Product description
Color:Warm White(3000K-3500K)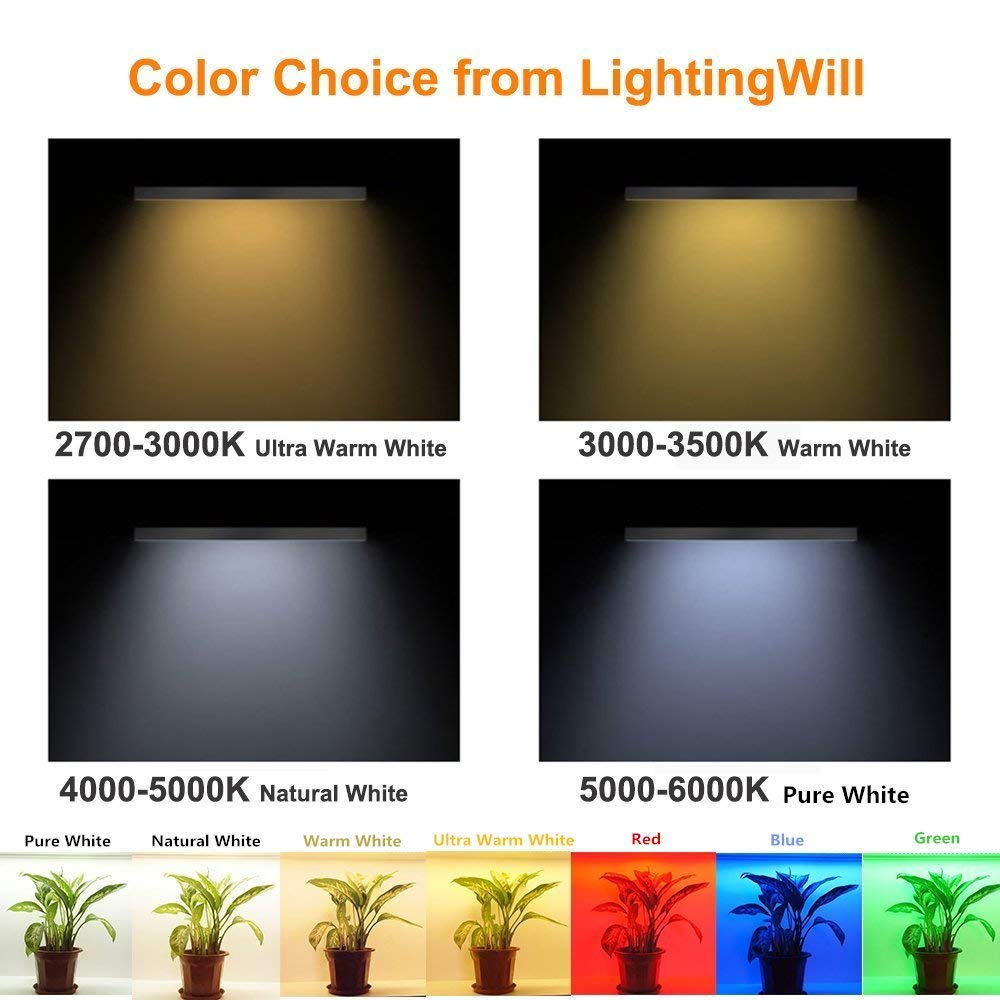 What is CRI
Color Rendering Index, it describes how a light source makes the color of an object appear to human eyes,
and how well subtle variations in color shades are revealed. The CRI is a scale from 0 to 100 percent indicating
how accurate a "given" light source is at rendering color when compared to a "reference" light source.
The higher the CRI, the better the color rendering ability. Light sources with a CRI of 80 to 90 are considered
good at color rendering. Light sources with a CRI of 90 or higher are excellent at color rendering and should be
used for tasks requiring the most accurate color discrimination.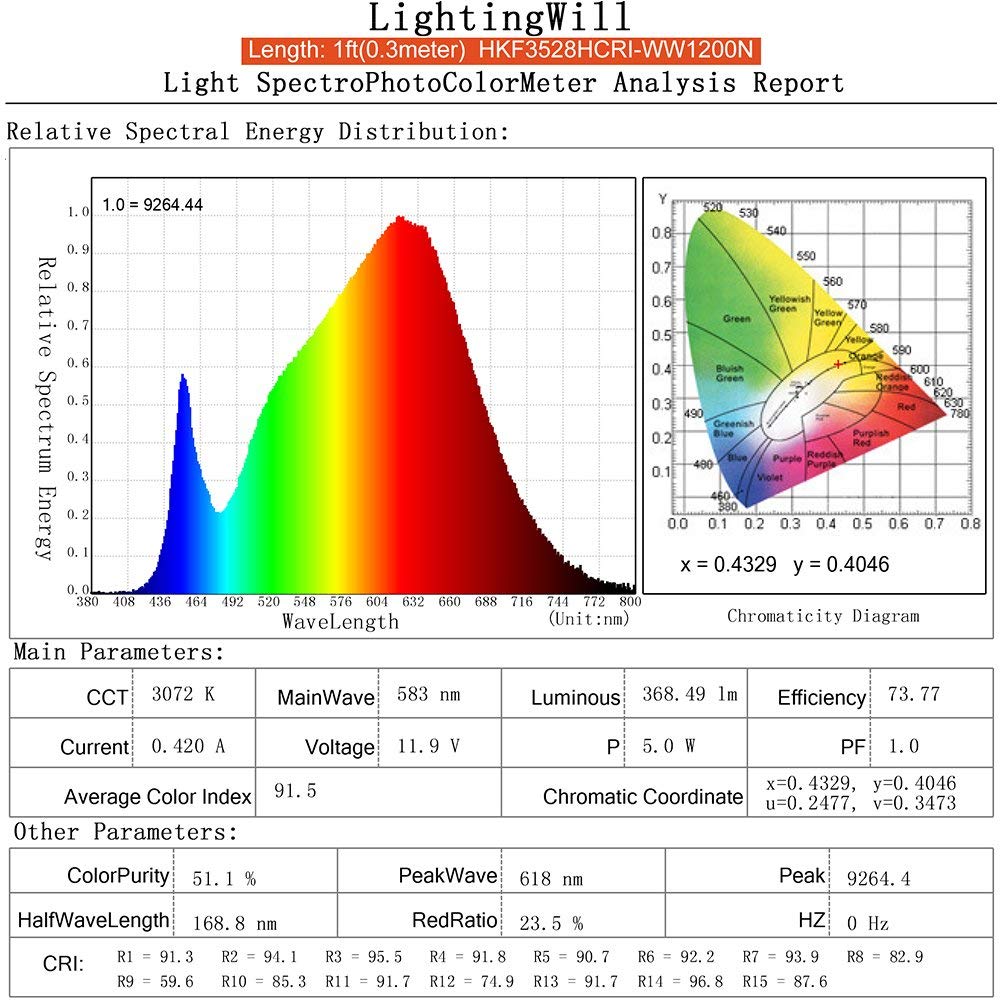 Specification
Item SMD3528-1200 5Meter 12V DC 96W 8Amp LED Flexible Strip
• Light Color: Warm White (3000K-3500K)
• Lumen Output: 368LM/ft
• LED Type: single color SMD3528
• LED QTY: 240 LEDs/Meter, total 1200 LEDs
• Input Voltage: DC12V
• Wattage (max): 19.2 Watt/Meter, total 96 Watt
• Cuttable: Every 6 LEDs per 1'' can be cut
• Beam Angle: 120 Degree
• Dimming: Yes
• Size(W*H/mm): 15*2
• Weight: 0.25kgs
• Length:16.4ft(5 meter)per roll
• PCB Color: White
• PCB Backing: Double-sided adhesive backing
• Waterproof Type: Non-waterproof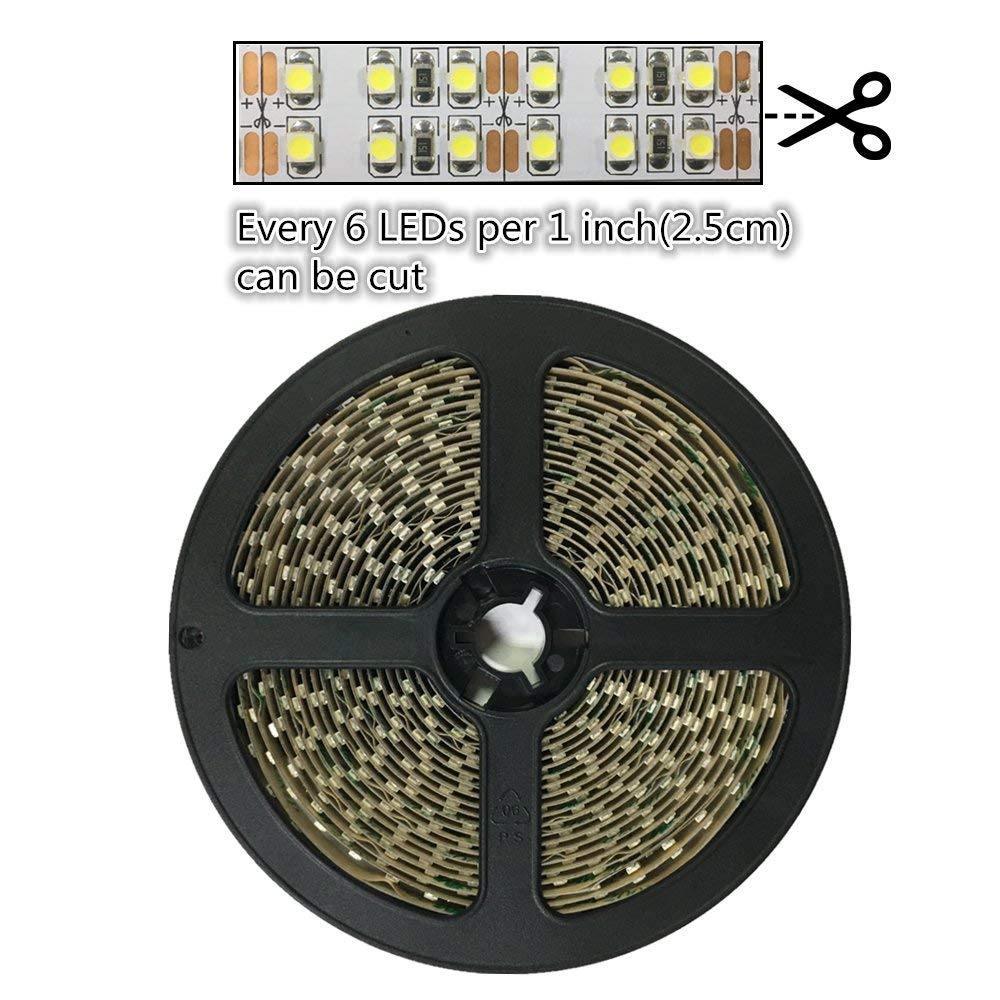 Package included:
• 1x 5meter per roll LED Flexible Strip
• 1x 5.5mm DC female to screw terminal end adapter

Applications:
• Widely used for home, office, hotels, clubs, shopping malls
• Architectural decorative lighting, boutique atmosphere lighting